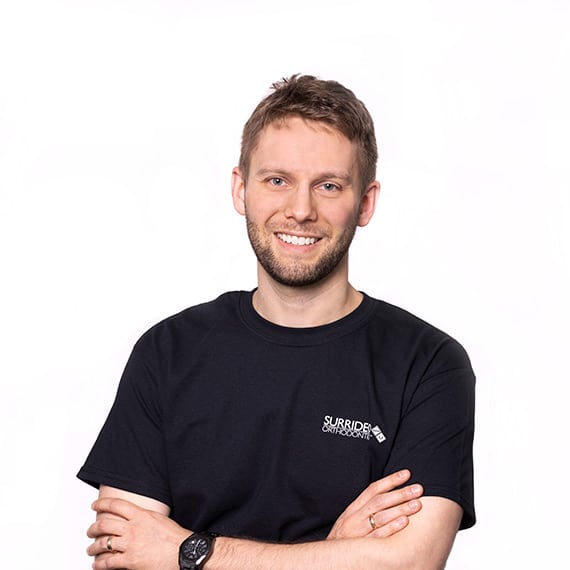 Dr. Matthew Kotyk
Dr. Matthew Kotyk grew up in Winnipeg and attended the University of Manitoba where he graduated with a Bachelor of Science in Chemistry. He went on to complete his Masters in Science in Chemistry, graduating from the University of Ottawa. During his Masters, he discovered he found problem-solving and working with his hands enjoyable and sought a career as an Orthodontist. He then completed both his Dental degree and three-year residency in Orthodontics at the University of Manitoba where he met Dr. Cohen. He successfully passed the National Dental Specialty Examinations, earning him board certification and fellowship status with the Royal College of Dentists of Canada, as a specialist in Orthodontics. Dr. Kotyk finds it incredibly rewarding to see the end results of treatment and the positive impact it has on a patient's life.
Dr. Kotyk regularly travels to Nunavut to provide orthodontic services to remote and underserved communities. While in Nunavut, Dr. Kotyk has engaged with patients and their families to gain more of an understanding of what it's like to live in such a remote part of Canada. He is grateful to have this ongoing opportunity to experience such a unique part of our country.
As Dr. Kotyk, his wife, two sons and their 6 LB chihuahua are new to Alberta, he has also been busy exploring western Canada! As a self-professed foodie, Dr. Kotyk and his wife have also been discovering the local restaurant scene. Dr. Kotyk looks forward to traveling more as his kids grow older, especially back to his personal favourite, the islands of the Philippines. Presently he is enjoying revisiting his childhood with his own boys playing Lego. Dr. Kotyk is excited to be working alongside Dr. Cohen here at Surrideo and is looking forward to continuing building relationships with all our amazing patients, present and future.
book free exam