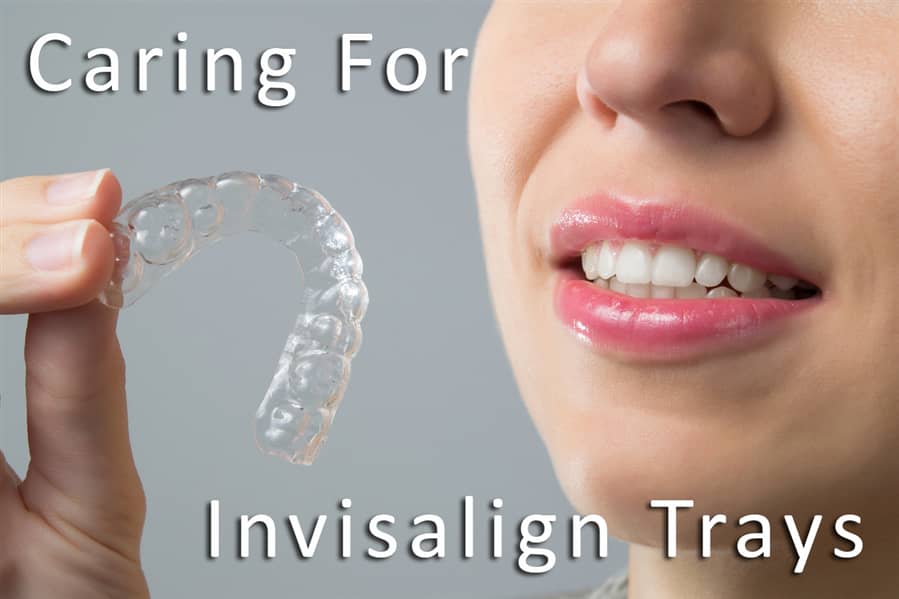 How To Care For Your Invisalign Trays
If you're one of the many patients undergoing Invisalign treatment, you're well on your way to an incredible smile that's both healthy and beautiful! Regular upkeep and good oral hygiene are essential for keeping your Invisalign aligner trays clean, fresh and odor-free. While Invisalign aligners are designed to be removed when eating and drinking, failing to clean the aligners properly afterwards can result in discoloration and a buildup of bacteria.
Here are a few helpful tips to follow that will help keep your aligners clean, hygienic and in great condition:
Steps to Cleaning Your Invisalign Aligners
Use a Soft-Bristled Toothbrush:
To clean your aligner trays, remove them from your mouth, then use a toothbrush with soft bristles to gently brush your aligners on both sides. You can use a non-abrasive toothpaste to help clean the trays, but only if you use a very small amount so you don't scratch or dull the surfaces of the trays.
Always Rinse the Trays Off:
When you're finished cleaning all surfaces of the aligner trays, you should  rinse the trays off using clean, cool water. To ensure the trays are properly rinsed, hold the aligner trays under running water.
Things Not to Do
There are a few cleaning methods that you should never attempt when taking care of your aligner trays including:
Do not soak your aligners in bleach or anything harsh or caustic.
Never use a hard bristled toothbrush or a whitening toothpaste to clean your Invisalign trays as doing so can scratch your aligners and reduce clarity.
Do not use denture tablets to clean your aligner trays as they can turn the trays yellow over time after repeated use.
Never not use hot water when cleaning or rinsing off your aligners as hot water will warp the plastic resin material the aligners are made of.
General Invisalign Aligner Tray Care Tips
Never set your aligners on any heat source when they're not in your mouth.
Do not eat with your aligners in as it can damage the trays and put your teeth at risk for decay.
Remember to put your aligners back in when you're finished cleaning them as they must be worn for at least 22 hours every day.
Contact your orthodontist if you damage or lose an aligner.
Invisalign Questions? Contact Surrideo Orthodontics
As you can see, it's not difficult to clean and take good care of your Invisalign trays! If you do have any questions or need some more cleaning or care tips, please just give our office in Calgary a call at 403-282-7878 or contact us online!